eKeiretsu IT-Sampo. Just add your business.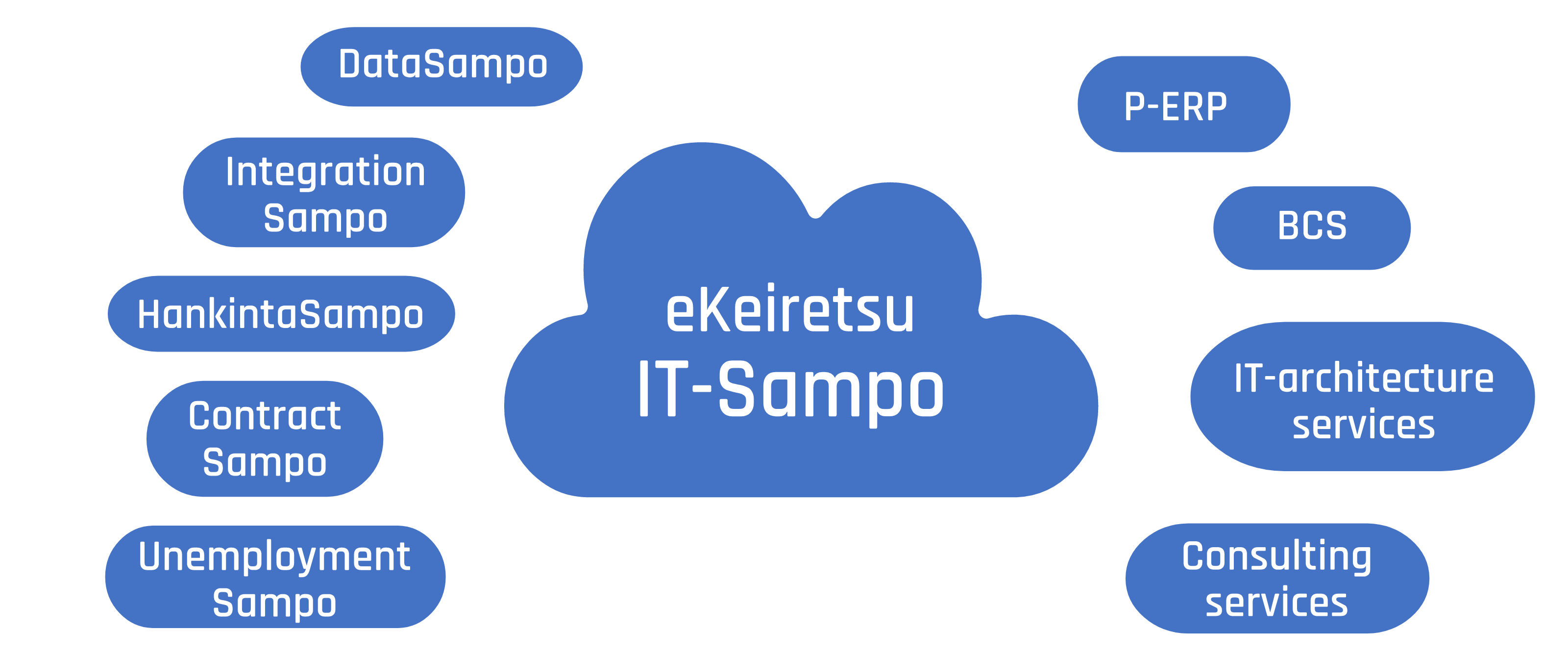 eKeiretsu IT-Sampo. Just add your business.
Business Cloud
Technology independent cloud service development ecosystem
Better quality of products or services
Business Cloud contains a ready-made environment. The features of this environment are utilized constantly in production
The best services and products from the market are integrated into the service
The ready-made platform independent ecosystem does not break the existing architecture, and enables the utilization of all suppliers
More revenue
Implement new services quickly and with a customer-oriented approach
Bring new, functional services to the market for testing (minimum viable product, MVP)
Engage various parties to development from the beginning – the right products to the market
Smaller costs and cost savings
A complete product / service development ecosystem enables bigger savings when building new products and/or services
Innovative pricing models based on continuous service
Colliding various suppliers, products, services and ideas
Time-to-market
Quick and agile time-to-market with a prefabricated ecosystem
As much as 80% of the new services already complete before starting
Commit the appropriate parties right from the beginning with the ecosystem and launch your products to the market
Risks minimized
The ecosystem and its features are utilized in the market constantly
You do not dommit to one supplier, you can choose freely your suppliers
A cost-effective way to launch products, financial risks minimized
Get to know our SaaS services
Power Contract
Contract misplaced?
Are you lost in a metaword jungle?
By deploying the next generation Power Contract service, you will save costs, minimize risks and take the follow-up of the lifecycle of your contracts and agreements to the next level.
HankintaSampo
Save time, effort and money by choosing HankintaSampo as your procurement tool.
With HankintaSampo's intelligent services you can follow-up your tenders in real-time.
P-ERP
Can a procurement ERP be intelligent?
Deploy eKeiretsu's P-ERP in which all manual processes have been automated into intelligent data processes, real-time information follow-up and utilization of data.
Match Making
How to match automatically the needs and supply of labor force?
Match Making makes know-how visible! The services matches employers and employees effortlessly by automating manual processes.